Process Control
From temperature and batch control to waste water and more, MWA has the experience to expertly and efficiently design and install your process control equipment. We have integrated the latest technologies providing the most accurate measurements possible of bulk materials. Whether your project calls for updating your existing system, integrating new technologies into an existing system or a new system all together, we can help make the transitions as seamless and painless as possible.
Raw Ingredient Unloading and Storage
Flowmeter & Scale Integration
Temperature and Pressure Monitoring Integration
Level Sensor Integration
Mixing & Batching Systems
Oven and Temperature Controls
Process Critical Point Rejection Systems
Computer Services
Hoppers, Tanks, Silos, and Super Sacks
How confident are you in your production line's output capabilities?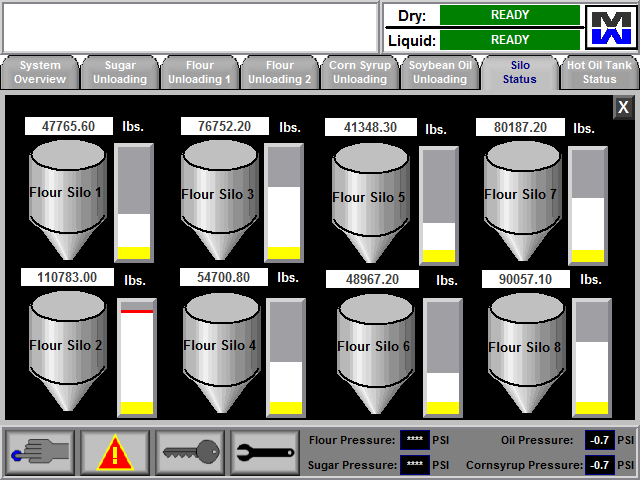 MWA has logged thousands of hours designing and implementing a multitude of automated systems. Through extensive process control experience, we help your production benefit through:
Maximizing production
Increasing product consistency
Ensuring safety by reducing liabilities
Increasing energy efficiency
Reducing downtime due to antiquated equipment failures
Reducing labor cost
Enhancing Overall Equipment Effectiveness

Enhance your current process to maximize your company's output.